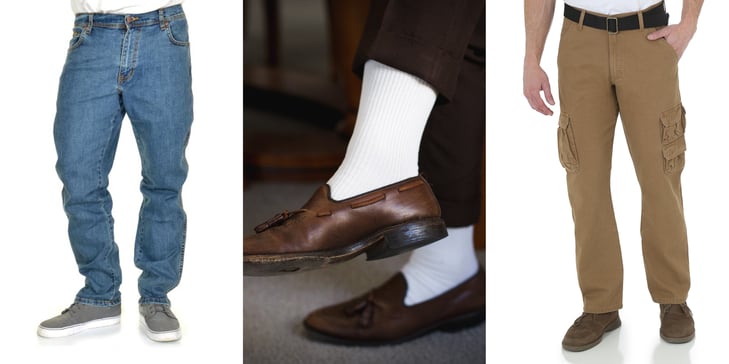 In the pantheon of men's fashion there has been some mighty blunders over the years. Such as being seen out in public in anything designed by Ed Hardy. Or even considering a man bun. Or drop crotch trousers. Trust us…if you ever want to father children, the last thing you want is your crotch near the floor.
In the interests of our valued clientele, our team has cobbled together a handy list of the top 10 fashion mistakes made by men. Read it carefully before you leave the house.
1. White socks with a suit: Our friend, Luc Wiesman, the D'Marge fashion blogger suggested this one. "White socks with a suit is the epitome of laziness. It's something I would expect a teenager to do when they've lost their black socks." We cannot help but agree with you Mr Wiesman.
2. A T-shirt with more personality than yourself: Do you really need to tell the world you went to an AC/DC concert in 1982? Or that you're 'with stupid'? Same goes for wearing a T-shirt emblazoned with a fashion logo. Unless Gucci is paying you to advertise their clothes, keep it to yourself. May we suggest a premium-quality cotton T-shirt in a basic black, white or navy? Nice.
3. A flat cap: Are you a working-class pigeon fancier from Yorkshire? Do you say 'Guv'nor' a lot and run a fruit barrow in the heart of London? No? Then don't wear a flat cap. Nobody ever attracted a mate by wearing one of these god-awful things.

4. An ill-fittIng suit: Looking like you're wearing your little brother's suit is never attractive. Ditto, if your jacket sleeves are dragging along the floor behind you. Head straight to InStitchu and order something made-to-measure. It will flatter your body and you'll look fabulous.
5. Posh 'lounge' pants: Yeah, you dropped $900 on those designer tracksuit pants, made from the fleece of a virgin goat. But guess what? They might be 'on trend', but still look like tracky dacks. And as such, they should never be worn on the high street. Buy a cheap but reliable pair from Uniqlo instead and keep them for the gym and the sofa.

6. A toupée: We know. Okay? We know. Same goes for a comb-over. A far cooler solution to your male pattern baldness is to have your hair cut really, really short, or shave it off.


7. Cargo pants: There's an extra hot place in hell for the person who came up with these abominations. Cargo pants are ugly. And worse, they make you look ugly too. Those bulky pockets do nothing for your silhouette. Even less flattering are cargo shorts.


8. Thongs: Unless you are going to spend the day on the beach, or are protecting your feet from the bacterial wildlife in a public shower, there is absolutely no excuse to put these rubber monstrosities on your feet. Invest in a pair of driving shoes or canvas sandshoes instead.


9. Baggy jeans: Apparently the 'relaxed look' jean is making a comeback. Ignore the urge to follow this hideous fashion folly, and stick to a flattering slim cut jean instead.


10. Plate belts: This one was given to us by fashionista Jeff Lack: "I'm talking about those really ugly belts that look like a rectangular steel plate. They are everywhere and worn by people who have no idea how to dress themselves. Hell, I've even seen them worn with those bloody square-toed shoes. Buy a proper belt with a buckle." Don't hold back Jeff.
Don't be seen in an ill fitting suit. Lead the pack and invest in a custom, tailored InStitchu suit and shirt today.